The Great Reset – rebuilding the global economy in a fairer, greener way as we come out of the coronavirus pandemic – will also require societies to battle and beat racism.
In his closing words at Wednesday's launch of the project, World Economic Forum Founder and Executive Chairman Klaus Schwab chose to cite Nelson Mandela, a man imprisoned for years for fighting institutional racism in apartheid South Africa and who became the country's president.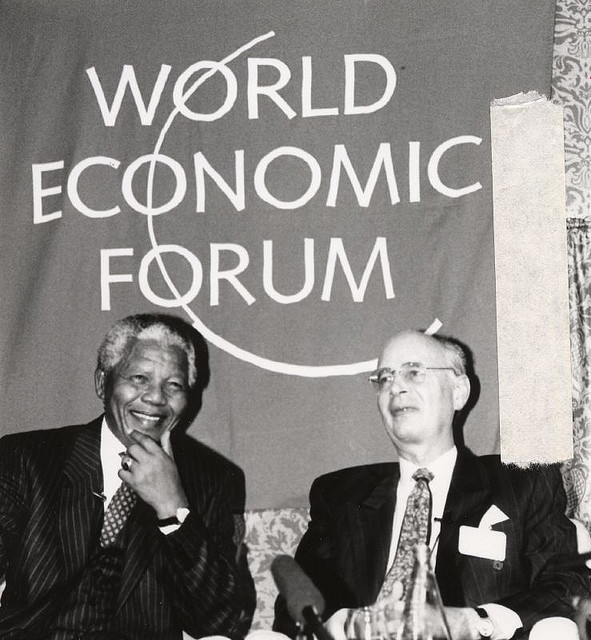 "I stood, 21 years ago, together with Nelson Mandela in Davos on the stage when he said: 'We should lay the scourge of racism, of divisiveness to rest. This requires strong, democratic institutions and (the) will of everybody and the culture of compassion. None of this is possible without a strong economy and a cohesive society."
While much of the Great Reset will be about environmental sustainability and the better use of technology, it is also about seeking greater fairness and less inequality.
"The COVID-19 crisis has shown us that our old systems are not fit any more for the 21st century," Schwab said in his opening statement. "It has laid bare the fundamental lack of social cohesion, fairness, inclusion and equality."
We could try to go back to the world we had before the pandemic, he said, but that risked "the amplification of many of the trends we see today: polarisation, nationalism, racism and ultimately social unrest and conflicts."
A great reset of how the economy and society run would do the opposite, he said.
It was also a time to support those who had been left behind. Juliana Rotich, Venture Partner at Atlantica Ventures in Nairobi, said we were at an inflection point.
"There's an opportunity to centre the reset on those who are most vulnerable, those on the edge where it only takes something like a pandemic to slide into poverty."
Other speakers at the launch echoed Schwab's concerns about inequality and racism.
Microsoft President Brad Smith made a direct reference to the racial conflict in his own country, and how the Great Reset could be part of the solution.
"Data, and technology more broadly, are indispensable tools to solving almost any of the problems that we confront," he said.
"And so when it comes to protecting people's fundamental rights, as we are seeing in the United States today, we have been focused for several years on using data to shine a light on disparities, for example, between the practices of police on African-Americans and blacks in the United States in comparison with other populations – that is a slice of what we'll need to address around the world."
In a passionate address, Kristalina Georgieva, the head of the International Monetary Fund said the Great Reset would result in a "greener, smarter, fairer world".
"We know this pandemic, if left to its own devices, will deepen inequality," she said.
"But if we were to concentrate in investing in people, in the social fabric of our societies, in access to opportunities and education for all, in expansion of social programmes – then we can have a world that is a better world for all."
Original article published by the World Health Organization
Source : https://www.weforum.org/agenda/2020/06/why-the-great-reset-also-means-fighting-racism?fbclid=IwAR2MQ8CkA8AZ6S7oQBYrNqgPjMhNGB3v6W4Y2t5XUgycbeJNjUFr_Z68qow